About 14 months ago, I published a post regarding a custom made Garmin compatible bike mount for my Sony Xperia active. In fact, this solution works for every smartphone if you feel comfortable to glue two plastic discs to the back of your phone. Therefore, I would recommend to apply this solution only to smartphones which have a replaceable back cover.
How has this mount performed in real life usage? In one sentence: It has never let me down! Neither did the mount come off the back cover nor did it work itself free. I have used it for about 700km on our Chariot Cougar, 600km on my travel bike and 1.800km on my triathlon bike. There were some brutal pot holes on this ride – the phone stuck to my bar like it was glued directly onto it.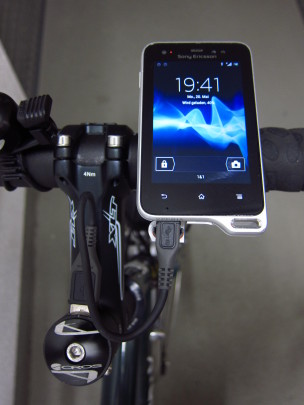 On my travel bike, I usually only use the Sony Xperia active displaying the route that I want to follow. The IpBike-App of Ifor Powell is perfect for that matter.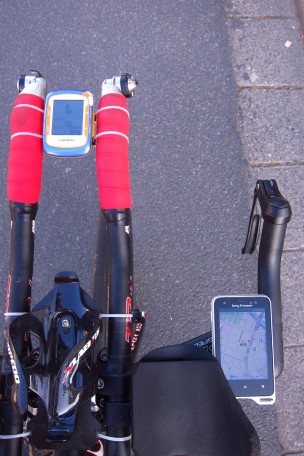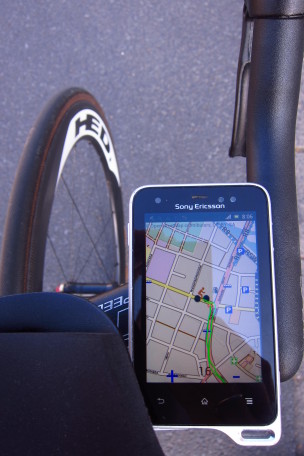 On my triathlon bike, I usually have the Garmin Edge mounted between my extensions to display power and cadence data. The Xperia active sits on the basebar displaying map and route, again using the IpBike App recording all sensor data via ANT+.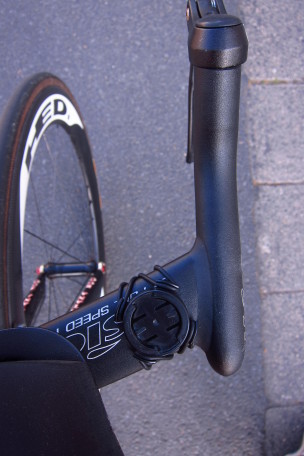 I was asked whether the phone would work itself free due to the missing locking tangs. It did not. You have to make sure that the thickness of the plastic disc glued to the back cover matches the thickness of the original Garmin mount as precisely as possible. This will ensure that there is a tight fit. If you cannot get a platter with a thickness of precisely 1.45mm, get a slightly thinner one – the fit will be even more tight.
And actually, it is an advantage to forgo the locking tangs because you can turn the smartphone to any position and are not limited to a 90° turn. On the picture to the left, you can see a scenario in which this is important.